Studio 64
True 64-bit Radio Playout and Automation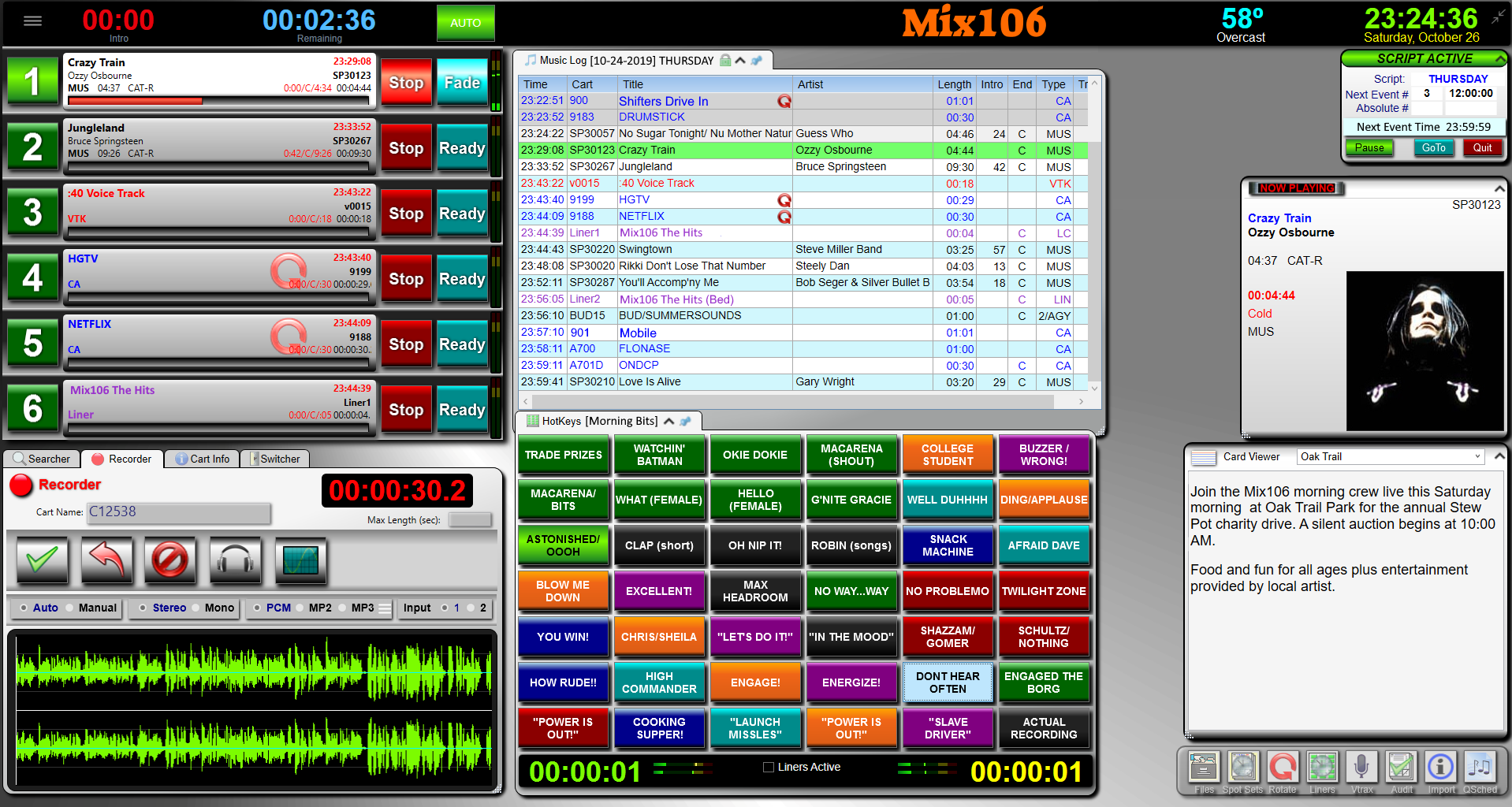 Pristine Systems Corp is proud to announce our 5th generation radio playout and automation system, "Studio 64".
Today's computer hardware far outperforms what was previously obtainable and 64-bit Windows 10 knows how to use it. Unfortunately, much of your software doesn't. While some automation and playout systems may run on 64-bit Windows, their 32-bit architecture won't allow them to realize the advanced processing power available under the hood. Pristine's new Studio 64 is built to harness the true power and speed of Window's latest 64-bit operating system.
The company, established in 1983, has used its extensive knowledge and experience in the radio automation field to insure Studio 64 is not only feature rich, but also robust, fault tolerant and easy to use.
For Music-on-Hard-Drive, Studio 64 offers extensive flexibility in a live assist environment as well as complete walk-away capability at any time. Local and remote voice tracking, time delay newscast insertion, automatic time and temperature announcement, 42 Hotkey players with multiple groups, current temperature and conditions display, quick copy Card Viewer, continuous Now Playing Website, RDS text, HD Radio and streaming server updates, Off Air Alerts via text messaging and email, 6 simultaneous players and 2 simultaneous recorders ensure the system is both capable and easy to operate. All popular music schedulers and traffic systems are supported.
For Satellite Automation add 24 Liner players, multiple audio switchers, TTL, RS232 and TCP/IP device control, time delay satellite programs, and advanced Time Scaling so spot sets fit the amount of time allocated by your networks.
Full Remote Control via the Internet with desktop or notebook computers, iPhones, iPads, Androids and most other smart phones and tablets means live sporting event and remote broadcasts are easy to handle from the field with no operator on duty at the station.

VTrax Voice Tracker
Sound Live 24/7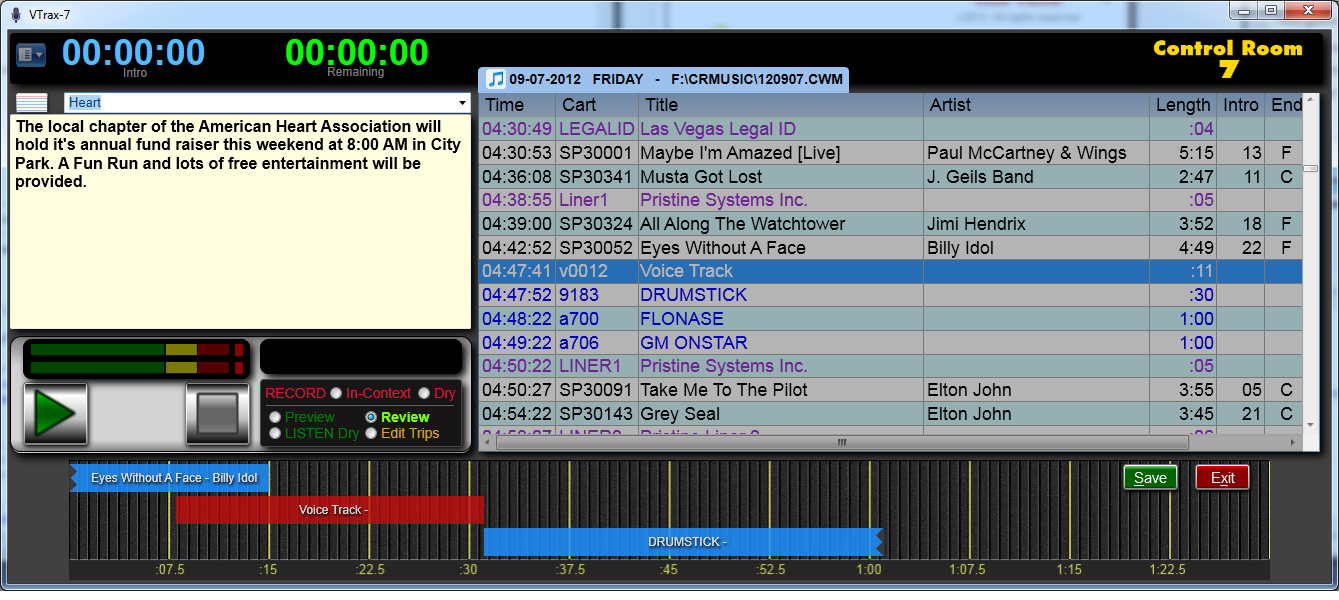 Vtrax Voice Track Recorder makes it possible for announcers to record Voice Tracks (for playback during automated portions of the day) that sound livelier than dry recordings of voice. Vtrax allows the announcer to actually listen to the music while recording. This provides better interaction with program material. Many announcers will produce better Voice Tracks because Vtrax gives them the live feeling while recording.
VTrax allows you to slide the tracks around on a display grid for precise control of overlap. Voice tracks may be recorded dry and then positioned on the grid or in-context with the operator setting the trip points in real time.
Operate Anywhere
Complete Remote Operation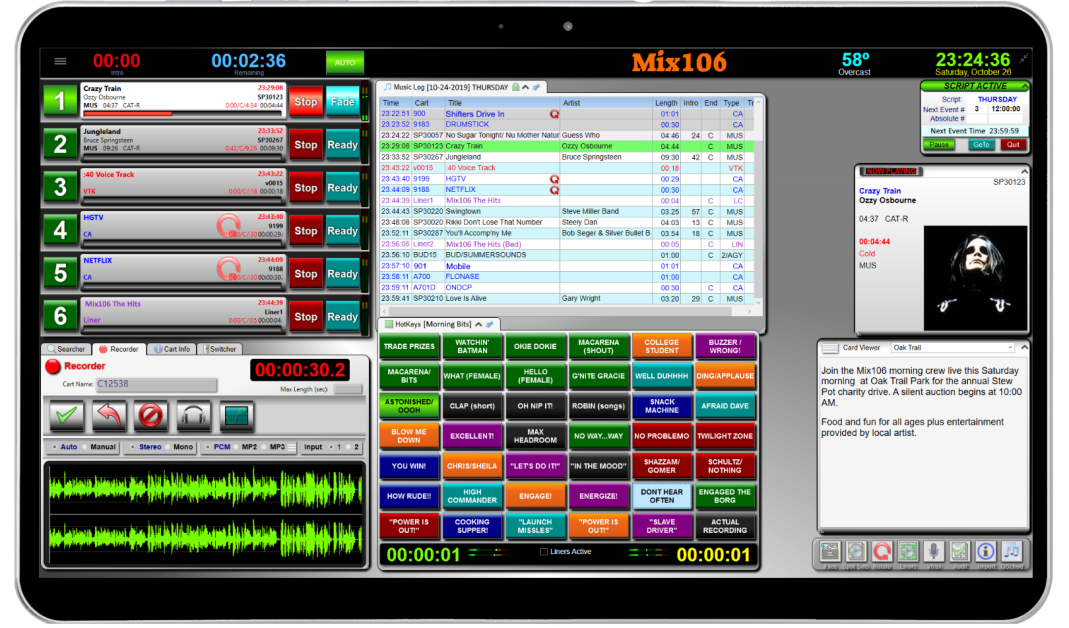 You can't always be at the studio. With Studio 64 you don't have to!

Access your radio station from iPad*, iPhone* or most any tablet or smartphone. Broadcast remotes or ballgames with no one at the studio. Go Live for breaking news or weather events. Make log changes and much more from wherever you are.



USB HotBox
The Perfect Studio 64 Live Assist Accessory!



| | | |
| --- | --- | --- |
| | Introducing the perfect accessory for the busy control room. USB HotBox bring the Studio 64 functions you use most to a convenient button panel for quick access. The HotBox makes it easier to operate without a mouse or keyboard during busy or stressful live situations. read more... | |
| | |
| --- | --- |
| Since 1983, Pristine Systems has served the broadcast industry with premium automation and play out systems. Our 5th generation Studio 64 builds upon our extensive knowledge in the field. read more... | |